Comecer will attend GICR National Congress
Università degli Studi di Napoli Parthenope, Naples, Italy
Comecer, a leader in radiation protection and containment, is happy to meet you at the GICR National Congress on 6 and 7 May in Naples and talk about the latest technology and our support and assistance services


Radiopharma - Nuclear Medicine


Comecer will attend the GICR National Congress on 6 and 7 May, 2022, in Naples, Italy.
Comecer, a world leader in radiation protection, containment, and sterility technologies for the production of radiopharmaceuticals and radionuclides, will present its products and illustrate the support and assistance services for our customers.
At the congress, you will discover all the features of some of our products, such as:
During the event, you will also have the opportunity to visit our poster in the dedicated area. It regards a technical-scientific article titled "Fully automated, commercial cassette-based production of high-purity [64Cu]CuCl2 from solid Ni target".
Stop by our tabletop and chat with our experts Antonio Caserta, Area Sales Manager Radiopharma Division, and Davide Scilimati, Radiopharma R&D Specialist. They will be glad to assist you with our solutions for your Nuclear Medicine department or Radiopharma production center.

Why not schedule a personal meeting with them?
CLIO is a standalone automatic volumetric dispensing system compliant with cGMP guidelines for radiopharmaceuticals.
Its main purpose is to dispense FDG like radiotracer, but can be used, upon technical evaluation, for different tracer isotopes or molecules.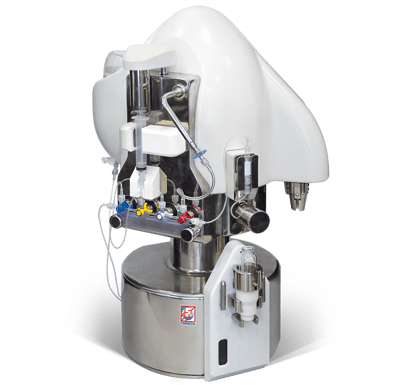 Schedule a meeting at the booth:


Click on the following link to download and see this event in your calendar
Event information
GICR National Congress
Naples, Italy
06 - 07 May, 2022
Category:
Radiopharma - Nuclear Medicine