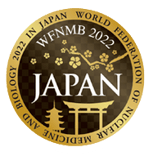 Comecer will attend WFNMB
Kyoto International Conference Center, Kyoto, Japan
Meet Comecer at booth #10 at the 13th Congress of the World Federation of Nuclear Medicine and Biology (WFNMB2022)


Radiopharma - Nuclear Medicine


Comecer will exhibit at the 13th Congress of the World Federation of Nuclear Medicine and Biology (WFNMB2022) from September 7 to 11, at Kyoto International Conference Center.
Plan to stop at our booth #10 where you can learn more about our Nuclear Medicine Shielded Equipment such as:
During this event, you will also learn more about IBC Workflow Management and Quality Control Software, a comprehensive client/server workflow management software for a cyclotron facility, central radiopharmacy, academic hospital, and nuclear medicine departments.

You can also have the opportunity to discover how to release the full potential of radiopharma products with Illuminate™ Manufacturing Intelligence: use real-time machine performance data to pinpoint where to focus efforts to reduce downtime, maximize line throughput, improve product quality, and make sustainable productivity improvements.
We invite you to meet and chat with our Radiopharma experts Fabio Salvini and Mattia Lami, they will be glad to answer your questions and share the details of our references.
If you want to organize your time at this event, make an appointment with them at the best time for you.
Discover more about MUSA 68Ga, the Shielded Isolator for Gallium-68 Synthesis and Dispensing
The isolator has been designed to optimise the Gallium-68 processes (synthesis and dispensing) extracted from generator 68Ga/68Ge. It is also suitable for labelling, thanks to the compact synthesis modules, or for fractioning different radioisotopes, including beta-emitters, such as 177Lu and 90Y.
Schedule a meeting with our experts:


Click on the following link to download and see this event in your calendar
Event information
WFNMB2022
Kyoto, Japan
7 - 11 September, 2022
See Comecer at Booth #10
Category:
Radiopharma - Nuclear Medicine