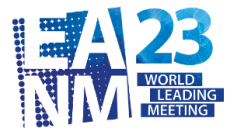 Comecer will attend EANM '23
Austria Center, Vienna, Austria
Meet Comecer at booth #305 at EANM '23: the 36th Annual Congress of the European Association of Nuclear Medicine from September 9 to 12, in Vienna.


Radiopharma - Nuclear Medicine


Comecer will exhibit at the 36th EANM Annual Congress - the European Association of Nuclear Medicine - on September 9-12, at the Austria Center, in Vienna, Austria.
At our booth #305:
Discover the new micro-dispenser for free carried radioisotopes, MIKROS
Find out more about the Radionuclide transfer system, RTS: a liquid and gas radiofluids distribution system for radiopharma and nuclear medicine plant.
Our experts will show you all the

features of

Alceo Series

, in

cluding Comecer achievements in the production of radioisotopes as 225Ac and 177Lu
You will discover and see the new features of upgr

aded

IRIS

live, and attend our demo presentations.

You can browse through our innovative 3D virtual presentation system allows you to see all our equipment, inside and outside, and how it works.
In addition, you can schedule your personal product presentation with our experts directly at the booth: all you have to do is select the product, the day and time that is most convenient for you, check it out!
We invite you to meet and chat with our Radiopharma team, they will be glad to answer your questions and share the details of our references.
If you want to organize your time at this event, make an appointment with them at the best time for you.
Discover MIKROS, the new micro-dispenser for free carried radioisotopes like 225Ac or 177Lu at booth #305:
Dispensing of 177Lu and 225Ac
Dispensing from 10 μl to 5000 μl
High accuracy
Safe and fast
Schedule a meeting with our team:


Click on the following link to download and see this event in your calendar
Event information
EANM '23
Vienna, Austria
9 - 12 September, 2023
Visit Comecer at booth #305
Category:
Radiopharma - Nuclear Medicine