Comecer is attending ASGCT Annual Meeting
Walter E. Washington Convention Center, Washington D.C., USA
Meet Comecer at booth #244 at ASGCT 25th Annual Meeting and discover all Comecer innovations in Advanced Therapies World.


Cell&Gene Therapy – ATMP


Comecer is pleased to participate at ASGCT 25th Annual Meeting from May 16 to 19. The event will take place at the Walter E. Washington Convention Center in Washington D.C., USA.
Stop by booth #244 to discover all the innovations in Regenerative Medicine field. In particular find out all the details of the ValueCell SOLO, Stand alone Cell & Gene Therapy isolator.
ValueCell Isolators are equipped with the devices commonly used in cell & gene therapy, available as standard or customizable configurations: incubators and centrifuges as a primary focus, but also refrigerators, freezing systems, transfer and sampling systems, product packaging, and filling, if necessary.
Release the full potential of ValueCell SOLO with Illuminate™ Manufacturing Intelligence: use real-time machine performance data to pinpoint where to focus efforts to reduce downtime, maximize line throughput, improve product quality, and make sustainable production improvements.
Would you like to learn more? Visit our booth #244 where our expert Ken Rando, Head of Business Development for Cell & Gene Therapy, North America, will answer all your questions.
If you want to organize your time at this event, make an appointment with him at the best time for you.
ValueCell SOLO has been thought for development and production activities who require aseptic conditions for sterile handling of Cell&Gene products. It is designed to allow the manipulation of cell cultures in a pharmaceutical context complying with GMP guidelines, facilitating the road to future marketing authorization.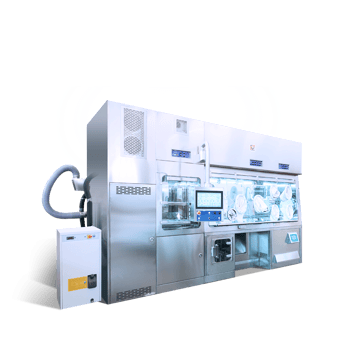 Schedule a meeting at the booth:


Click on the following link to download and see this event in your calendar
Event information
ASGCT Annual Meeting
Washington D.C., USA
May 16 - 19, 2022
See Comecer at Booth

#244
Category:
Cell&Gene Therapy – ATMP