Comecer is holding an ALCEO User Meeting focusing on how to double the radioisotopes you can produce
Pinnacle Harbourfront Hotel, Vancouver, Canada
Register for the ALCEO User Meeting focusing on how to double the radioisotopes you can produce, happening on June 11 at the Pinnacle Harbourfront Hotel, in Vancouver, Canada.


Radiopharma - Nuclear Medicine


Comecer will attend the SNMMI Annual Meeting in Vancouver, BC, Canada, from June 11 to 14. The event will take place at the Vancouver Convention Centre.
On this occasion, we have organized a USER MEETING focused on the ALCEO Solid Target Processing product.
It will be held on Saturday, June 11, at the Pinnacle Harbourfront Hotel in Vancouver from 3 to 5 pm PDT.
Taking into account all the customer ideas and requests, we decided to develop this new version of the Alceo solid target system (Alceo 4.0) in order to get a much more robust system in the market.
Mario Malinconico, Product Manager and Senior Radiochemist will lead the meeting with users.
This User Meeting is intended to collect further user experiences in order to implement more and more features in this new version of the solid target system.
Comecer is pleased to introduce for the first time the new Alceo 4.0:

• Up to 7 isotopes with single system
• Fully automated process
• More operator safety
• Only one target for all isotopes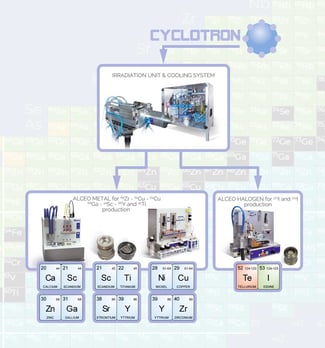 Register now for the ALCEO User Meeting:

Click on the following link to download and see this event in your calendar
Event information
ALCEO User Meeting
Pinnacle Harbourfront Hotel, Vancouver, Canada
June 11, 2022
Category:
Radiopharma - Nuclear Medicine